Our Lady appeared to three shepherd children in 1917 in Fatima, Portugal. This is considered a more modern day apparition than the others I have shared with you. It took place during WWI, with foretellings including WWII and beyond. It is widely believed that all of these foretellings have not yet taken place.
On May 13, 1917, three shepherd children, Lucia, Jacinta, and Francisco in Cova da Iria, Fatima, Portugal reported seeing "a lady more brilliant than the sun." Lucia, at age 9, was the oldest. Her cousins, Jacinta and Francisco just 7 and 8 respectively. Children. Innocent children. These are the messengers chosen.
During the apparitions Our Lady gave the children three secrets. For the first, they were shown Hell. This is an excerpt from Sr. Lucia's memoir from 1941 regarding the vision on July 13, 1917:
Our Lady showed us a great sea of fire which seemed to be under the earth. Plunged in this fire were demons and souls in human form, like transparent burning embers, all blackened or burnished bronze, floating about in the conflagration, now raised into the air by the flames that issued from within themselves together with great clouds of smoke, now falling back on every side like sparks in a huge fire, without weight or equilibrium, and amid shrieks and groans of pain and despair, which horrified us and made us tremble with fear. The demons could be distinguished by their terrifying and repulsive likeness to frightful and unknown animals, all black and transparent. This vision lasted but an instant. How can we ever be grateful enough to our kind heavenly Mother, who had already prepared us by promising, in the first Apparition, to take us to heaven. Otherwise, I think we would have died of fear and terror.
The second secret had two parts. First that WWI would end, but that a greater war (WWII) would come if people did not mend their ways and return to God. The second part was in regards to Russia. Our Lady told the children that Russia needed to be converted to her Immaculate Heart so that the world could then experience a time of peace. If the conversion did not happen, Russia would spread her errors throughout the world.
The third secret was a vision that Lucia had. It basically predicted an angel with a flaming sword crying out for penance. Then there were many holy people climbing a mountain to be martyred, including the pope. Our Lady said that the conversion of Russia to her Immaculate Heart will happen, but if we don't repent it will take that much longer. We have not seen Russia converted, and there certainly has not been a period of peace, but we did see the Berlin wall come down and other inroads into peace, so I believe it is coming.
There were many miracles at Fatima. Just the fact that Our Lady was there! One of the most famous, however, is the miracle of the sun. This is when, on October 13, 1918, the sun danced in the sky, swooping and swirling above the heads of 70,000 people. Now, I don't know about you, but I can't get 70 people to agree on anything, much less 70,000. That is what I call a miracle in more ways than one.
Francisco and Jacinta died during the Influenza epidemic of 1918, Francisco in 1919 and Jacinta in 1920. They are now saints. As for Lucia, she lived as a nun to the ripe age of 97, dying in 2005. She is being considered for sainthood, but the process is a long one and couldn't be started until five years after her death, per Church doctrine. Her three memoirs are available if you would like more information.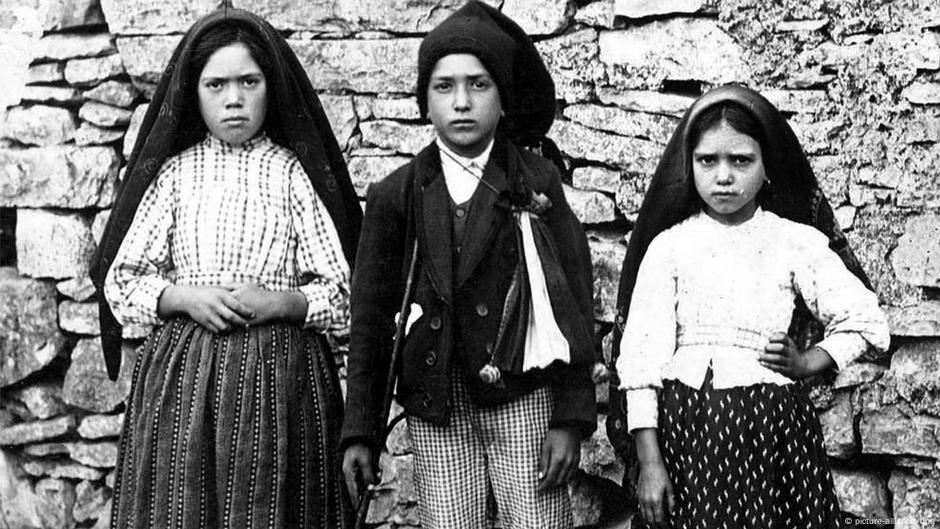 So, what is the message here? Apologize. Confess your sins to God and get on the right track. Our God is a merciful God. He wants His children back. What are you waiting for? Pray and repent!!!